I'm Jonny Regan, founder of PictureBook PartyBooths. We're incredibly proud and extremely passionate about our 'Award Winning' Photo Booth Experience. We stand out from every other Photo Booth company out there and we pride ourselves in offering a madcap, quirky, mischievous and entertaining experience totally unique to us!!
When creating the company six years ago we didn't just want to be a run of the mill, self-service, pose-and-go photo booth hire service like the rest. We wanted to create a fun, interactive, memorable entertainment experience that would bring out the naughtiness and playful side of everyone.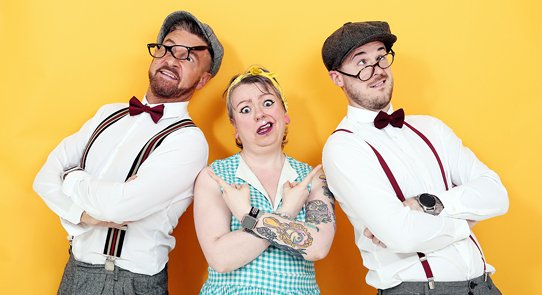 Why Choose a 'PictureBook PartyBooth' Photo Booth
No delivery fee (within 1 hour of our head office)
High End Photo Booths – There's no others like us in the UK
External Screens
Hi-resolution commercial quality prints
Hundreds of hilarious props
Mischievous staff dressed in vintage customes who stay all night and play games with your guests
Bespoke hand made guest book included
Custom graphics, text and picture of the happy couple printed onto the bottom of each booth print
1940's Hollywood Photo Booth
Our musical, talking Hollywood photo booths bring the glitz and glamour of the Oscars to your event with their fabulous theatre-style light box displaying the happy couples name up in lights, red carpets with flashing lights, gold railings, red velvet ropes, Oscar statue and director's chair.
Vintage Shabby Chic Photo Booth
Our musical, talking Shabby-chic photo booths simply exude classs! They are perfect for vintage, traditional or even modern themed weddings and really look the part with their framed illuminated marquee sign light box displaying the happy couples name up in lights, silver poles with shabby chic ropes, Cath Kidston bunting and distressed-look furnishings.
'Mildred' The Vintage Caravan Photo Booth
We are delighted to introduce you to 'Mildred' our stunning vintage caravan photo booth. She is simply perfect in every single way, having been lovingly restored by ourselves, decorated out in vintage 'Shabby Chic' style with distressed wooden flooring, Cath Kidston soft furnishings, original antique crockery and accessories. Stepping inside really is like going back in time to the 1940's.
'Hetty' The Vintage Horse Box Photo Booth
Our simply beautiful Vintage Horse Box photo booth or 'Herry' to her friends is an original 'Richardson Rice' horse box from the 1970s. Having finally retired from her duties transporting thoroughbreds around the UK, we have lovingly transformed her into the beautiful, one of a kind photo booth that she is today, equipped with state of the art technology including touch screen, DSLR camera and studio lighting.
The Rustic Heart Booth is our brand new open air photo booth that is making a real impact at this year's Weddings and Events. The design of our Rustic Heart Booth combines the fun of a photo booth with the style and elegance of a wedding. Our Love Heart Booth has a vintage look, yet it contains the latest state of the art professional grade photographic equipment, producing fantastic quality images.
A beautiful addition to your wedding, with its stunning country garden style setting with white picket fencing, rustic apple crates where your guests collect their prints and there's even artificial grass to top it off. Your guests will love it! You also get to choose from our stunning Flower Wall or Rustic Wooden Barn Doors back drops. 
The selfie Hub is the modern-day alternative to placing disposable cameras on tables. It's a fancy piece of technology that allows guests to snap and upload photos from their phones directly onto a slideshow on a 50″ screen for all to see. What's even more impressive is that the Selfie Hub doesn't need any fancy apps or WIFI, in fact your guests can be anywhere in the venue and they don't even need signal on their phones for it to work.
We offer a lovely collection of light up letters and giant love hears which are very popular with our brides and grooms, with many of our couples using them as a beautiful backdrop for their photos or to simply add that perfect finishing touch to their venue.
We currently offer a giant 6ft light up white love heart, 4ft MR & MRS in white, 4ft and 5ft LOVE in white, 4ft rustic LOVE and MR & MRS, 4ft PROM in white and 4ft numbers 0-9 in white.
Our Vintage Instant Photo Bureau is a great alternative to a photo booth, or if you fancy something a bit different. IT comprises of a beautiful vintage console table with a matching picture frame to peg your display, complete with a vintage look instant camera. We include enough film to produce 100 prints, fun props, mini wooden pegs, a special pen for writing on your prints and a small guest book for you to place your pictures in after your big day.
Meet Frankie & Fritz our resident paparazzi men straight from the 40's who are always on the lookout for celebs to 'pap' for that all important front page headline. The only problem is they've missed out on the last 80 years and now don't know who is famous and who isn't! These cheeky chaps, armed with 1940's Press camera will do anything to catch a celeb – even if it means getting photos of everyone! Frankie & Fritz are available to attend your big night capturing candid photos of your guests as they arrive at your party in true Hollywood fashion!